Fall Garden Renovating
It's been quite the summer with heat to the point of unbearable. I may need to remind you not to complain. Winters are not a favourite with me. I welcome the summer with open arms…usually sleeveless!
Crazy as it may sound, now is the perfect time to look around your garden and admire its beauty. Gardens in the heat of summer are usually at their best. Take note of your handiwork (and of course of ours).
Notice any spots that are patchy, sparse, or lack continuity — these spots are opportunity!!! In these areas you can plant for summer with summer flowering shrubs, for spring with spring bulbs, or even for winter with some evergreen interest. Including an ornamental feature, like a trellis or screen, will give you something to look at all through the year. There's no shortage of choices.
Planting Spring Bulbs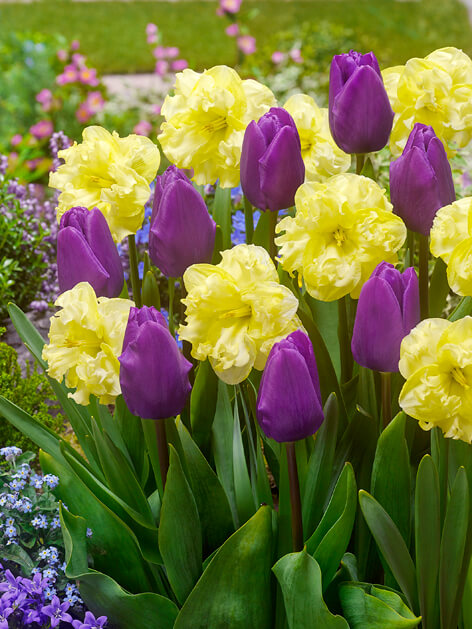 For spring, bulbs are fantastic. Remember: there are different ways to plant bulbs, but the main thing that remains constant is that you need lots! Bulbs look much better in large clusters. Whatever you think you need, double, maybe even triple that. Volume will give you the impact you are looking for.
Think of your planting as an arrangement in a vase.

Dig your planting holes large enough to put 10-12 bulbs together.

Be sure to add blood meal and bone meal.

Don't put too much space between planting areas. One foot apart is plenty.
Another way to maximize your display is with single bulbs but in straight lines with several rows. This looks great when you are covering a large area.
Create your planting areas by first trenching to the correct depth and have your rows 10-12 inches apart.

Plant your first row and move to the next, but off-centre of the second row so that you are creating a triangle pattern.

Carry on until you have all your bulbs planted.

Ideally you would want to have an area large enough so that you can have at least 5 rows.
Need help deciding what to do? Call us. Green Thumb Landscaping is here to help your gardens look spectacular. When your gardens look great, we look great. Everybody's happy.
Have a great day and stay cool!